Show Me Your ID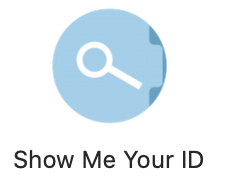 Show Me Your ID will provide you with the Bundle ID, Team ID, and the full code for an application by dragging the application to the Show Me Your ID window. The idea for this application came to me while I was using the codesign command and testing it with different flags like the one below.

/usr/bin/codesign -d --deep --verbose=2 -r- /pathToApplication

I noticed the output of that command provided lots of information including the Team ID and Identifier which are needed when creating Approved Kernel Extensions configuration profiles. In the past, I've used the publicly available google sheet to get Team and Bundle ID's located at:

https://docs.google.com/spreadsheets/d/1IWrbE8xiau4rU2mtXYji9vSPWDqb56luh0OhD5XS0AM/htmlview#gid=0

While that list is very helpful, it takes time to find what you're looking for. I wanted a simpler way of finding the Team ID and Bundle ID , so I created this application with 20 lines of bash code and a neat app called Platypus that turns a bash script into a GUI application. I hope it can help others save time as well.

Download the App.

Steps
1. Launch the Show Me Your ID application.
2. Drag and drop an application to the Show Me Your ID window.
3. The information is displayed.