Add AppleTV to Apple Business Manager for Automated Device Enrollment in Jamf Pro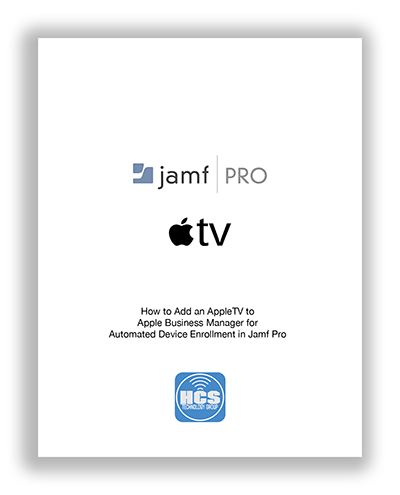 You can choose to add iOS, iPadOS, and tvOS devices to Apple School Manager or Apple Business Manager using Apple Configurator 2, even if the devices weren't purchased directly from Apple, an Apple Authorized Reseller, or an authorized cellular carrier. When you set up a device that has been manually enrolled, it behaves like any other enrolled device, with mandatory supervision and mobile device management (MDM) enrollment. For devices that weren't purchased directly, the user has a 30-day provisional period to remove the device from enrollment, supervision, and MDM. The 30-day provisional period begins after the device is activated.
Adding devices requires iOS 11 or later, and adding tvOS devices requires tvOS 11 or later. This guide uses an AppleTV (Gen 4) which has a USB-C port. AppleTV 4k does not have a USB-C port. If you're following this guide using an AppleTV 4k model, follow the support article to learn how to connect it to Apple Configurator 2 over the network.

Download the PDF.