Creating Blueprints and Provisioning Workflows with Apple Configurator 2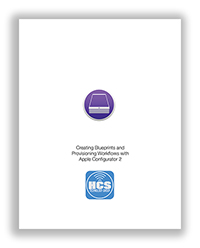 Apple Configurator 2 is a macOS app that allows IT to deploy one or many iOS, iPadOS, and tvOS devices in an organization. Although you might be aware of some of the well-known features of Apple Configurator 2, this guide shows you how to use Blueprints to not only create a templated workflow but to use additional Actions built in to the product. Beyond simply setting a name and wallpaper, Apple Configurator 2 can also interact with Apple's Apps and Books program to distribute content you purchase in bulk. When used in conjunction with content caching, you can create a powerful method of deployment that can ease the strain on a network. Lastly, this guide explores a feature called tethered caching, which can share the internet connection and cached content of a Mac with iOS devices that are connected using USB.
When used in conjunction with Apple Business Manager and mobile device management (MDM) solution, Apple Configurator 2 can perform many tasks out of the gate without you and your staff tapping on the devices. You can get devices in the hands of your users more quickly and efficiently.

Download the PDF.