Deploying and Updating Zoom with Jamf Pro and AutoPkgr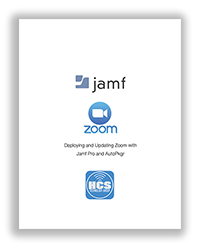 The purpose of this guide is to provide a workflow for Mac administrators to deploy Zoom with customized settings to multiple Mac computers. This guide uses Jamf Pro as an example mobile device management (MDM) solution and uses a feature called Custom Schema which was introduced in Jamf Pro version 10.19. You'll learn how to customize the Zoom app using the Applications & Custom Settings payload in computer configuration profiles in Jamf Pro. The payload offers you an area where you can directly enter the JSON Schema manifest for the Zoom app and then use the configurable settings generated by Jamf Pro to customize Zoom settings.
Zoom provides an installer package for Mac computers called "Zoom for IT Admins". This installer will support the pre-configuration of settings for Zoom settings using a configuration profile that we will create in this guide. This guide includes optional sections for integrating Zoom with Microsoft Outlook for Mac and for keeping Zoom up to date with AutoPkgr and the JSSImporter.

Download the PDF