Recommendations and Practices for Content Caching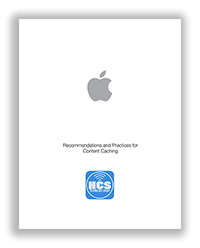 Content caching speeds up the downloading of software distributed by Apple and of data in users' iCloud accounts by caching content that local Mac computers, iOS and iPad OS devices, and Apple TV devices have already downloaded. When you turn on content caching on your Mac, content caching stores local copies of items so downloads are faster for connected clients.

The purpose of this document is to supply guidance and solutions around content caching to improve the user experience. This includes coaching and mentoring the technical staff on core concepts, configuration, content cache deployment options, and verification and troubleshooting steps.



Download the PDF